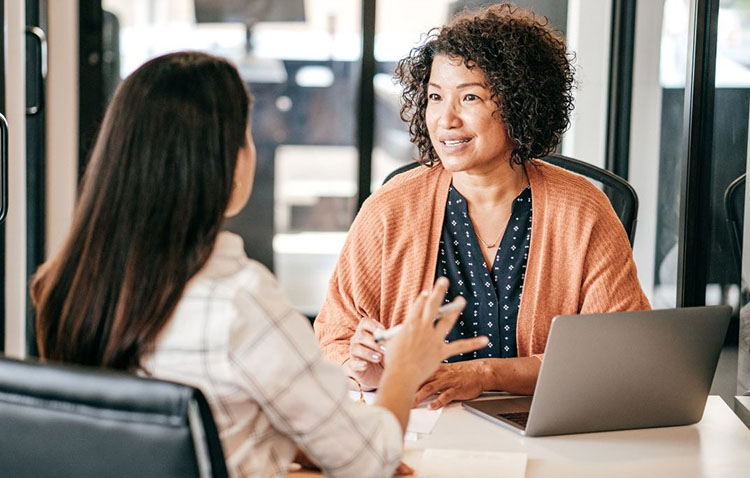 Employers use an interview to find out if your skills, experience and personality match their needs; they want to know what you can do for them and if you will fit in. Interviewing also gives you a chance to further gauge your own interest and show the employer what you can contribute.
Interview Process Overview
Before – Prepare
By preparing you will be ready to highlight the experiences, skills and qualities most relevant to positions you've targeted and build confidence in communicating your qualifications.
Research the job, employer, field, industry
Gather more information about them, what the position entails, who you are interviewing with, and prepare questions for the employer.
Employers consistently advise: Do your homework and be prepared to talk in specific terms about your interest in the position and the company; it will show motivation and genuine interest. If asked, "Why are you interviewing for this position?" avoid a vague response such as, "I thought it looked interesting and you are a top tier company."
The student who has read about the firm on its website and has put some thought into it – "I really identified with a few of your business principles and it made me feel as though I would be a good fit for your firm because…" – is one who will be remembered.
Research yourself
Define how you meet the required and desired qualifications, why you are interested, what you want the employer to know about you by the time you are done with the interview. Mine your experience for stories to illustrate your points.
According to the National Association of Colleges and Employers (NACE), which surveys hundreds of employers each year, the attributes most highly sought after in candidates are:
Problem-solving skills
Analytical/quantitative skills
Ability to work in a team
Communication skills (written)
Initiative
Strong work ethic
Technical skills
Flexibility/adaptability
Detail-oriented
Leadership
Communication skills (verbal)
Interpersonal skills (relates well to others)
The list varies somewhat from year to year. You will need to ascertain what is most important for the specific role you are targeting and to the particular employers you are interviewing with. This is information you can gather from web research and informational interviews.
Practice, Practice, Practice!
See Interview Preparation for more guidance.
During the interview: Make a positive impression
Nonverbal Communication
Be prompt (arrive early and well-rested). Make sure you know exactly where you are going.
Wear neat and appropriate attire (keep it simple)
Be cordial to everyone
Be aware of body language. Confident posture, gaze, smile, handshake. Manage your nerves and avoid fidgeting
Exude positive energy, enthusiasm
Employers know that they are going to have to train new hires in the basics of their profession. An enthusiastic person who demonstrates that they want to learn the profession and to contribute will do a lot to convince an employer that he or she is worth investing in. A candidate who can 'engage' the interviewer has a good chance of getting the job offer.
Verbal Communication
Listen closely to interviewers' questions (both manifest & latent content)
Think briefly before responding
Monitor length of responses (conciseness & completeness); don't monopolize the conversation
Watch your pace and pauses, clarity & tone
Thank the interviewer(s)
Afterwards: De-brief
Assess
How do you think the interview went and how do you feel about the role and employer now? Record the following:
Names and titles of people you met with
Primary responsibilities of the role
Would I be effective in this role? What makes me a fit for the job?
What are my general impressions of the people? The position? The organizational culture? Would I feel comfortable there?
Would I enjoy the work? Would it make use of my preferred skills and talents? Does it suit my personality and values?
What would my resume look like after a year in this job?
Would I like the lifestyle that goes with this kind of work (hours, pace, dress code, travel…)?
Where would this work fit into my long-range plans? Are there opportunities to move up or to another related field?
What did I like most about what I learned? Least?
Send a thank you note within 24 hours of the interview
Send it to the primary contact, extending appreciation to the other members of the panel or group.
Use it as an opportunity to restate your key qualifications and your enthusiasm for the job.
Refer to some part of the interview that stood out for you; it can be a point where the employer responded particularly positively to you.
You can use the letter as an opportunity to present a selling point that you forgot to mention in the interview.
Follow Up
If you don't hear from the employer after the expected time frame, you can send an email to ask about the status of your candidacy and offer to provide any additional information they might need to help with the decision.
If you are ultimately offered the position, ask what it was that sold them on you.
If another candidate is chosen for the position, ask for feedback on the interview and on your qualifications.
More interview guidance
Youtube Video series, "Powerful Interview Tips"
Career Readiness Workbook includes common questions asked by employers, questions to ask employers, etiquette tips, closing the interview, interview attire, types of interviews, sample thank you letter
Negotiating Offers and Salary – Equip yourself with data and insights from relevant websites that will help you answer the question, "What are your salary requirements?"
Learn about On-Campus Interviewing