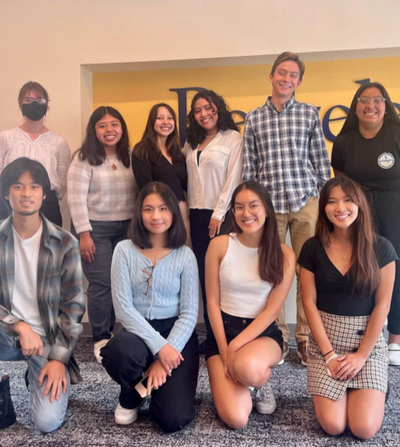 Our Career Center Peer Advisors for 2022-2023
Ashley Santiago
Hola everyone! My name is Ashley Santiago and I'm a fourth-year studying Business Administration and Food Systems. I'm from South Central LA and Oaxaca, Mexico – where I grew up and call home. I am very excited to be a peer advisor this semester and can't wait to meet you all. Definitely stop by the Career Center, I am more than happy to answer your questions and help get you ready to achieve your career goals. Besides the Career Center, I am also involved with OaxaCal, the Fung Fellowship, and ASRB (The Association of Socially Responsible Business). On my free time I also enjoy vegetarianizing home recipes, bartending, and reading. Looking forward to seeing you all at drop-in hours!
Colin O'Malley
Hey everyone! My name is Colin (He/Him/His) and I'm a second-year Psychology student. I'm from sunny San Diego but have fully converted to being a lover of everything the Bay has to offer. I am so excited to utilize my passion for working with and counseling people (I want to be a therapist!) here at the Career Center. Beyond my work here at the Center, I have been involved with the Public Service Center's Alternative Breaks program and have taken an art class at the Berkeley Art Studio to unwind and exercise my creative side. Additionally, I also work as a Crew Leader at Cal Dining. Hope to see you stopping by!
Elyssa Phan
Hi everyone! My name is Elyssa and I am a fourth–year transfer student at Cal majoring in Media Studies. I am from Orange County, southern California. Apart from the Career Center, I also work as a program coordinator for the Transfer Student Center's Starting Point Mentorship Program. On campus, I am also involved in FAST as a staff photographer and stylist as well as VSA (Vietnamese Student Association). In my free time, I enjoy playing the guitar, reading new books, playing board games with friends, crossing more movies off my movie bucket list, going around the city to take pictures, and occasionally editing vlogs. I would love to provide as much support as I can along your professional journey, so please don't hesitate to drop by during drop-in hours! Can't wait to meet you all.
Gabriela Trujillo
Hi everyone! My name is Gabriela Trujillo and I am a junior majoring in Sociology. I was born in Berkeley (Alta Bates baby, if ykyk lol) but I grew up in Oakland so I am very familiar with the Bay Area. I'm incredibly passionate about mental health, tech, marketing, and education! Outside of the career center, I am involved with EOP, LBSA, and I volunteer at a local high school. In my free time, I love to have spontaneous picnic dates, draw on Illustrator, binge-watch tv shows, and read. I am beyond excited to be a small part of your professional journey here at CAL! If you have any career-related questions or just want to vent about anything, feel free to come by my drop-in hours!
June Nguyen
Hello! My name is June and I'm a first-gen junior majoring in Business Administration with a minor in Public Policy. I've resided in the East Bay ever since I moved to the U.S. from Vietnam when I was 13. My career interest is finance, but I'm also knowledgeable about other careers in business as I've gone through business club recruitment at Berkeley. I've had several internships at a startup, investment bank, and acquisition company and will be interning at an investment bank next summer. Aside from my professional pursuits, I love trying out new restaurants and cafes and watching movies (Quentin Tarantino) and shows (The Boys, GoT, Stranger Things). I'm super excited to support y'all on your professional journey as a Peer Advisor, so see y'all at my drop-in hours!
Mayra Herrera
Hi everyone! My name is Mayra and I'm a 5th year transfer studying Political Science and Chicano Studies, and I'm so excited to be returning to the Career Center. I am from Santa Ana, California, aka the heart of Orange County. Outside of my work with the Career Center, I will be the External Executive Director for the Raíces Center, and will be fully supporting my Latine community through that position. Outside of school, you can find having picnics at Memorial Glade, finding new places to eat, and jamming out to Harry Styles. I'm so excited to be returning and I can't wait to meet y'all at drop-in hours!
Morgan Lee
Hello! My name is Morgan and I'm a senior majoring in economics. I'm a local guy, born and raised in the bay area (San Francisco) and I love to spend time exploring new places around campus. I enjoy watching, playing and talking about sports among numerous other topics. I transferred into Berkeley last fall semester, so I'd be more than happy to provide some insight on how to navigate campus as a new student. Make sure to swing by sometime, as I look forward to meeting all you. Let's all have a fantastic semester!
Tatiana Nikolaeva
Hi! My name is Tatiana and I am a senior majoring in Political Science and Economics. I am from Sacramento, but some people say that I am out of this world? Apart from the Career Center, on campus, I am a president of Undergraduate Political Science Association and Editor-in-Chief for Berkeley Economic Review. In the past I have been involved with many other orgs and taught a Personal Finance DeCal so feel free to inquire about any of these! In my free time, I love practicing self-care by binge watching shows, experimenting with different recipes, and hitting the gym. After graduation, I am planning to pursue law school, open my own non-profit organization and get personal training certification. I am super excited to be a part of this wonderful team and speak with you during my drop-in hours! Each one of us will go an extra mile to answer even the trickiest of your questions, so do not be shy and drop by!
Tiffany Tong
Hi, I'm Tiff! I'm a 4th-year majoring in Society & Environment with a certificate in Business Administration. As a peer advisor, I'm really excited to hear about your aspirations and needs. I have lots of helpful tips on how to gain work experience, write a competitive resume & compelling cover letter, how to explore careers, and more! My other experiences include doing a tech internship, O/B research, work-study, study abroad, and industry mentorship. Feel free to come by to chat!!
Victoria Airea
Hello! My name is Victoria and I am a fourth-year transfer student double majoring in Japanese and Slavic Languages & Literatures, with aspirations of becoming a language educator in the future who would like to support other students in various realms of academia and professional development. Apart from my work at the career center, I also work as a Japanese language tutor for my community college, helping students and aiding the professor in class sessions. I'm from a tiny, historical, gold rush mountain town in Northern California and have spent a lot of my time there enjoying the quietude of nature, though I also enjoy the liveliness that comes with residing in the Bay Area. In my moments of leisure, I enjoy spending quality time with those I am close with, as well as curling up with a book, playing tennis, and playing piano. I am very fortunate to have been able to join the team at the career center and am really looking forward to being able to meet all of you who come to my drop-in hours. Let's have a wonderful school year!