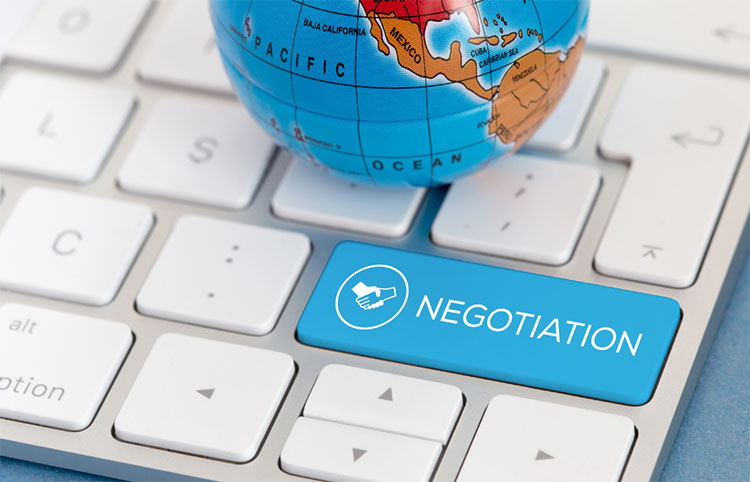 Should I Negotiate?
If you conducted salary research and found that the offer is fair, you may decide to accept it. In other instances, you might decide to negotiate. Keep in mind that entry-level employees do not usually have a lot of latitude for negotiation. Employers are also less likely to negotiate in slower job markets. Some employers have a policy of starting new employees at a set pay rate, while others allow for some negotiation. Public sector employers often have salary scales for various classes of jobs, and inexperienced hires generally start at the first step on the salary scale.
Salary Negotiation Principles
An interviewer may raise the subject of salary and benefits any time in the interview process. Prepare in advance using the following tips:
Do your homework – research the market salary range for someone with your level of experience in your target industry. 
Assess – Consider your budget needs. Calculate the market value for the position based on the industry and location.
Practice – Negotiation is a skill. Make sure to practice before you negotiate!
Negotiate – Ask if the offer is negotiable. When you choose to negotiate, be positive to maintain a strong relationship with the employer. After you come to an agreement, make sure to get the final offer in writing.
Things To Consider
Consider different factors in making a decision regarding the acceptance of a job offer. Few, if any, organizations will provide all that you would like to have in your ''ideal'' job, and you should know on which factors you can make comfortable compromises and which must be met.
The Industry

History of growth
Predictable future needs
Degree of dependence on business trends or cycles
Degree of dependence on government regulations or actions

The Organization

Prestige and reputation
Public vs. Private
Growth potential
Size and company culture
Financial stability
Strong management or leadership team

The Job Itself

Training and development opportunities
Day-to-day activities
Amount of stress or pressure, pace of work
Requirements to relocate, travel, or work long hours
Responsibility, autonomy
Opportunity for advancement and/or individual achievement
Salary and benefits package Involvement with good supervisor, peer associates
Physical environment
Social significance of work

General "Lifestyle" Factors

Comfort with goals, philosophy of organization
Geographic location
Recreational and educational facilities, cultural opportunities
Timing is important. Until you have a clear understanding of the job (so you can determine what would be fair compensation) and have had an opportunity to discuss your qualifications, it is premature to discuss salary immediately. To the extent possible, do not bring up salary early on, and avoid being the first to name a salary or a salary range.
If you do have to share your salary requirements, give a range based on your level of experience (typically low 50's, mid 60's or high 40's for those still in school, or about to graduate) or whatever is considered a typical entry-level range for your specific industry. This is why it is especially important to do your homework in advance!
When you get an offer, ask for it in writing and ask the employer to clarify any aspects that aren't clear to you.
A successful negotiation involves being both assertive and cooperative.
If you are successful in any aspect of your negotiation, ask for a new written offer letter that reflects any agreed-upon changes.
What Else Can I Negotiate?
Start date. Give yourself a vacation before you start work. Remember that new employees must accrue vacation time. It may be a while before you become eligible to take a vacation.
Early performance review and salary review. Propose an early review date tied to a potential salary increase.
Vacation. If you start work in August, and know that you will need time off for a vacation in December, negotiate in advance for extra vacation days.
Professional development. Employers often cover professional association dues and conference fees. Some employers offer tuition reimbursement as well.
Relocation expenses. Reimbursement for moving expenses.
Flex time. Nonstandard work hours can help lessen commute time and accommodate other interests.
Hybrid. How many days do I have to be in person in the office? Is it required? Will those days change? Am I able to work remotely? If so, are there restrictions on where I can work remotely from?
Signing bonus. A one-time cash bonus received when you start working.
Performance bonus. Received at the end of the year and based upon your performance or the organization's.
How to Negotiate
Before you contact the employer, plan what you want to say and practice aloud with a friend, family member, or career counselor.
Approach the employer early in your decision-making process and maintain professionalism throughout all interactions.
Strategies:
Continue to show enthusiasm and provide reasons to support your request, such as relevant internship experience, special skills, high GPA, or current competing job offers. Employers are not interested in any personal reasons you may have for needing or wanting a particular salary (e.g., debt, wanting to make what your best friend makes, etc.).
Ask whether it would be possible to have a performance review in a not-too-distant time frame (e.g., 90 days or 6 months).
Propose a discussion of the other aspects of compensation (monetary or other intrinsic worth, such as RSUs) to help increase the value of the offer.
Language:
"This is somewhat less than I expected. In doing my research, I've seen a range of $___ to $___ for someone with my skills and background for this kind of position."
"Based on my research and my internship experience and skill set, would you consider the range of ___ (e.g. $55,000- $65,000)?
Is there any flexibility on this offer?"
"Could we establish a 90-day evaluation period, and if I meet my goals, re-visit my salary?
ACCEPTING AN OFFER
Accepting an offer:
Sign and send it back to the employer by the agreed upon deadline. Keep a copy of the letter for future reference.
If your application is pending with other employers, let them know that you have received an offer and wish to have your name withdrawn from further consideration. It is unethical to continue interviewing once you have accepted an offer.
Inform your references and other contacts of your job or internship status. Thank them and periodically update them on your career trajectory.
SAMPLE:
Dear Ms. Ramirez:
I am delighted to accept the offer to join Porter & Associates as a Public Affairs Specialist. I look forward to working directly with you and Mr. Bermudez on the upcoming media campaign. Per our telephone conversation on April 5, 2023, I understand the monthly salary will be $_________ and the organization will pay for my relocation expenses, inclusive of moving costs and assistance locating new housing.
Thank you for sending the employment forms. I will complete and bring them when I report to work on July 6, 2023.
Sincerely
DECLINING AN OFFER
Declining an offer:
Contact the employer formally by email and indicate your appreciation for the offer and the opportunity to interview. State that you are declining their offer. You may tell them why, although you are not required to do so.
Immediately after accepting an offer from one organization, decline any other offers as soon as you are no longer interested in them. Remember to close the loop with any recruiters or HR professionals you may have been working with.
SAMPLE:
Dear Mr. Gonzales:
Thank you very much for offering me the position of Systems Analyst with your organization. After careful consideration, I have decided that this position is not an optimal match for my career goals, and so I respectfully decline the offer.
I appreciated the opportunity to interview with you, and was especially pleased with the discussion we had about the direction you are taking Garner Information Services. I wish you success with your new ventures.
Thank you again for considering me for the position.
Sincerely