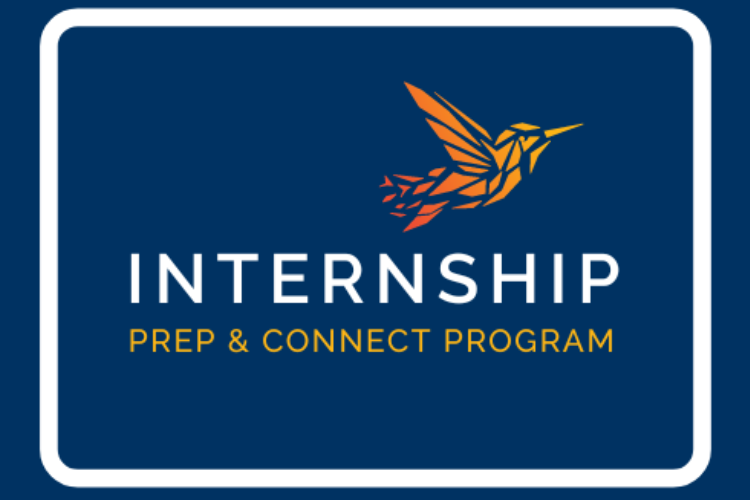 The Internship Prep and Connect Pilot Program will launch in the Fall of 2023 as a hybrid, non-credit-bearing program designed to support the Career Readiness and long-term success of disadvantaged students in the Arts and Humanities and Social Sciences majors.
Program Overview
The Internship Prep and Connect Pilot Program will launch in the Fall of 2023 as a 10-week long, hybrid, non-credit-bearing program. The goal of this program is to increase internship engagement and Career Readiness among disadvantaged students, particularly in the Arts & Humanities and Social Science majors, by educating them on the importance and benefits of internships, teaching them how to search and apply for internships, and creating opportunities for students and employers to connect.
Program Components
The program consists of a series of training modules and other elements that prepare students for internships by developing their Career Readiness based on NACE Standards.
Modules

Module 1 – Career Readiness
Module 2 – Professionalism
Module 3 – Personal Development
Module 4 – Resume and Cover Letter
Module 5 – Search
          To deepen understanding and integrate learning, each module entails:
Employer Participation (based on availability)
Contextual Information and Supporting Data
Gaps and Needs Identification
Best Practices
Tools and Resources
Small Group Discussions
Assignments: (written, oral, presentation, video, etc.)
Group Work
Reflection Exercises
Quiz
A Framework for guiding students through the internship process and enabling them to reflect and assess their experience.
Culminating Event: Networking event with employers.
Certificate of Completion to add to resumes, LinkedIn/Handshake profiles.
Who Can Participate?
The program is open to all currently enrolled  2nd and 3rd-year undergraduate students including undocumented and international students. Priority is given to A&H and So-Sci majors and under-served students with high needs. Special consideration is given to Education Opportunity Program (EOP), Student Support Services (SSS), Transfer students, and Pell Grant recipients. The inaugural cohort will be limited to 30 participants. 
Key Dates
Application Dates: May 1 – July 31, 2023
Program Dates: Tues, Sept. 12 – Tues, Nov. 7, 2023
Final projects due: Tues, Nov. 14
Practice Your Pitch: Tues, Nov. 14
Networking event: Thurs, Nov 16
Certificates of Completion issued by Tues, Nov. 21
Delivery Method
The Internship Prep and Connect Program is a hybrid, non-credit-bearing, program. Students will engage via both in-person meetings at the Career Center and live virtual meetings. Content will be offered in a variety of media formats including pre-recorded videos, digital articles, websites, etc.
APPLY
Students can apply for the Fall 2023 Cohort from May 1 –  July 31 by completing THIS APPLICATION.